Meant to Be
Lauren Morrill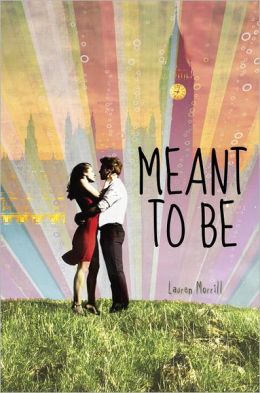 I heard about this book over the summer. Everyone was calling it the next Anna & the French Kiss. This made me both EXTREMELY excited & skeptical all at the same time (just like how every dystopia is the next THG.) While I understand the relationship, I won't be saying this. But you should know that IT IS AWESOME.
Then, I met Lauren a couple months back, and I became even MORE excited for it. She is ridiculously awesome, and is now in my book club. WHICH MAKES HER SUPER AWESOME. :)
I loved this book. It was fun, quirky, witty, and yet full of heart. I feel like this is actually a pretty hard thing to accomplish- but Lauren managed it with (seeming) ease.
Julia was a great MC. Yes, she was a bit too rigid sometimes, but that almost made it better in the end. She had so many plans for her trip to England- for her life really. So many plans, and yet, none of them really seemed to be working out for her.
Jason was her complete opposite. He challenged her, got under her skin, and I LOVED EVERY MINUTE OF IT. AND! AND! HE IS BRITISH. THAT IS ALL I AM SAYING! Both of these characters were great, and witnessing them being forced to be buddies was probably one of the greatest things ever.
I don't want to give anything away, but seriously guys. I LOVED THIS BOOK.
If you guys want a fun read, THIS IS IT. You won't regret it!